At Lima Pipe Organ Company, Inc., we realize the importance of good customer service. Our team of organ builders and service technicians make every effort to respond to customer inquiries and request in a timely manner. Emergency service calls receive priority treatment 24/7. All work is performed in a professional manner with respect for the sanctity of the Church environment. Call us for a free estimate on your next pipe organ project.

Organ Building
Lima Pipe Organ Company, Inc. is equipped to provide all levels of organ building service. Whether you are having minor repairs made to your existing instrument or are having a totally new organ constructed, you can rest assured that Lima Pipe Organ company, Inc. is prepared to meet the challenge. Our vast network of suppliers guarantees that the best available products and materials are used in your project. We make every effort to use American made products in our instruments. We are so confident in our product that we offer a 10 year guarantee on all materials and workmanship.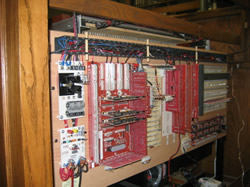 Solid State Electronic Upgrades
Lima Pipe Organ Company, Inc. has made a specialty of installing solid state electronic controls in pipe organs. We use only the highest quality equipment manufactured by the leading suppliers in the pipe organ industry. Special emphasis is given to ease of operation, reliability, longevity and serviceability. In the unlikely event there is a problem, our technicians have working relationships with the technical support teams at our suppliers ensuring prompt repairs.
If you are seeking to improve the versatility of your pipe organ by adding MIDI capabilities or you want to improve reliability by replacing antiquated relays and switches, give Lima Pipe Organ Company, Inc. a call.

Service and Tuning
We approach the pipe organ as both a musical instrument and a machine. As a machine, we realize that external elements affect the operation of the organ. Temperature, humidity and pollution cause problems with tuning, operation and tone quality. Our service technicians inspect each component of the organ from the blower to the pipes. Adjustments are made to correct any wayward mechanisms. Pipes are tuned and any tonal deviations are corrected. If a problem is noted that requires repairs, it is reported to the customer so that corrective measures can be authorized. Service and maintenance agreements are offered in one, two or three visits per year. Other arrangements are also available. We also offer service on an as needed basis. Our goal is to provide the customer with a reliable instrument that will serve for generations.

Special Services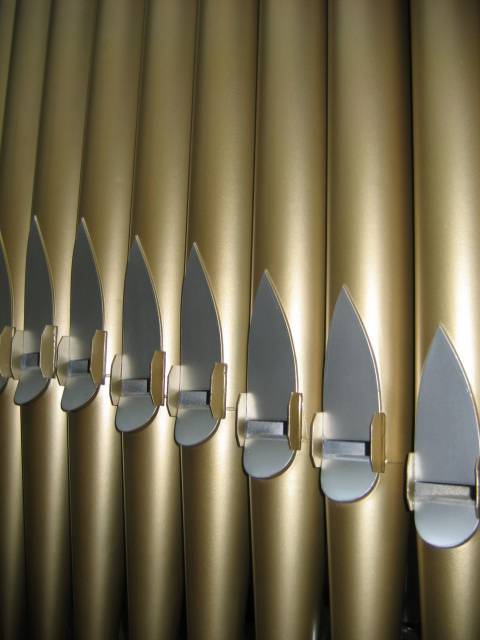 Facade Refinishing
The one element that identifies your instrument as a pipe organ is the pipe facade. These large pipes, often from the Great Principal or Open Diapason, were often painted with a gold paint that deteriorated over time. The result is dull, splotchy pipes that have little visual appeal. Sometimes the pipes are painted when the church is redecorated and end up blending into the surrounding walls. Poor handling by painters and maintenance personnel often results in unsightly dents. Lima Pipe Organ Company, Inc. has developed a process for restoring your facade pipes. Pipes are structurally repaired and painted with an automotive lacquer paint. The result is beautiful organ pipes that will last for generations.

Cleaning
Almost every surface of a church receives some type of cleaning on a regular basis. The one exception is the pipe organ. Generations often pass before the components of the organ are thoroughly cleaned. Dust and soot often build up to the point that the tonal character of the pipes is affected. Dirt in the mechanism can lead to ciphers or dead notes. The technicians at Lima Pipe Organ Company, Inc. are equipped to thoroughly clean your pipe organ. From cleaning and painting the floor and walls to washing and polishing the pipes.